Digital Marketing Agency For Doctors | Benefits of Digital Marketing for Doctors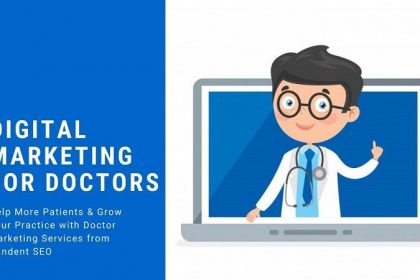 Digital Marketing for Doctors galvanizes the loyalty of current patients and educate prospective patients about their healthcare options.  It's always been about connecting with your audience in the right place at the right time. And we all know that today, the right place is on the internet and the right time is around the clock.
That is why Digital Marketing for Clinics and Doctors along with hospitals are important in this digital era in order to have an online presence to connect with prospective customers. Therefore, in this blog, we will see in detail, the reasons for the need for Digital Marketing for Doctors along with its benefits and some Social Media Marketing Strategies.
Why Doctors Need Digital Marketing 
In the world of digital media, prospective patients have online sources to learn more about you, your practice and services, and what other people think about you. Patients come to you when they need medical expertise, so the majority of the time, they are likely to use the digital mediums to learn about your services and to know about your reputation.
Following mentioned are also some of the obvious reasons to answer why Digital Marketing for Doctors is important:
To create, promote, and defend your online reputation
Compared to traditional marketing digital marketing is very cost-effective
More patients are searching for doctors online every year
Social media is a great tool that many doctors neglect
To get discover online, your digital presence needs to be optimized
To streamline patient engagement
Your medical peers and competitors are already online
Therefore, if you are looking for an agency with a proven record that can deliver results Candent SEO, Best Digital Marketing Agency in Bihar is the best option for you.
This is because we help you to initiate & form a base in the field of online marketing via designing & presenting your website. In addition to that, our methodology is also refreshingly uncomplicated. As we start our work by firstly knowing all about your business objectives and needs. And then developing an integrated plan to turn it into a tangible reality.
Benefits of Digital Marketing for Doctors
The Following mentioned are the reasons why Digital Marketing for Hospitals, doctors, and clinics is important.
Your Potential Patients Are Looking For You Online
Having a stronger digital presence will better connect you with the patients who are digitally searching for doctors. With medical digital marketing, you can use search marketing to directly target specific consumers with information that will benefit them.
Whether this is in the form of SEO or SEM, you can design the digital content such that it reaches exactly the people who would benefit from reading it. In the same way, you can also target your Medical Digital Marketing strategy to reach the right audience.
Patients Will Remember a More User-Friendly Experience
The easier you make it for your patients to navigate the ins and outs of your practice, the more likely they are to have a good experience.
Regardless of how much patients enjoy your care, they may start looking somewhere else, if it is difficult for them to find information, make appointments or understand your services.
When patients can easily go online and look at your website and get answers to the questions they have, it reduces the amount of work you both have to do. Thus, adding this ease and convenience to the great care that you offer will not only benefit you in patient-retention, but it will also help you in patient-acquisition.
Saving On Costs Means You Can Provide More to Your Patients
Our team understands how overwhelming Digital Marketing For Doctors can be, which is why we're here to show you how easy it can be and how incredible the return on your investment will be.
In addition to reaching more people, Medical Marketing for Doctors can significantly decrease your practice's cost per patient acquisition. We know the hardest part of acquiring new patients is reaching out to them and showing them what you have to offer.
Therefore, Digital Marketing Agency for Doctors allows you to do that in a very specific, focused, and specialized way. The effort of learning how to effectively use Online Marketing for Doctors is worth it considering the increase it will bring to your business and the decrease it will bring to your costs.
Room for Flexibility While Marketing     
Medical Marketing for Doctors allows you the flexibility to quickly change the messages, respond to the patients' questions. Along with concerns and areas of interest, and refine the efforts to improve their effectiveness.
Accurate Monitoring On Patients Behavior
Digital Marketing for Doctors also provides you incredibly accurate analytics that lets you track the actions people take in response to the messages and calls to action.
Social Media Marketing Strategies for Doctors
Social Media Marketing is an essential part of Digital Marketing for Doctors in India. This is because almost all people are nowadays on multiple social media platforms.
Social Media for Doctors is a massive contributor for driving traffic to your hospital or clinic website and search engine ranking. It also helps Medical Marketing Strategies reach a broad audience and can be used as a critical lead generation tool.
Furthermore, with social media marketing and advertising, you can attract new patients, engage current ones, and build a trusted reputation for quality care. 
How Social Media Helps in Digital Marketing for Clinics And Doctors?
Social media marketing for doctors makes it possible not only establishing their relationship but also in strengthening them.
Here are some of the ways it does this:
Increased Visibility
Greater Engagement
Higher Authority
5 Social Media Strategies of Digital Marketing for Clinics and Doctors 
An effective social media strategy requires you to stay in touch with prospective patients by presenting them with relevant expertise. It's an ongoing process, so you need to dedicate time and effort if you want to get the benefits. Here's what you need to do to help your social media marketing strategy succeed:
Promote Your Accounts
One should start with setting up a personal social account on Facebook, Twitter or LinkedIn for building a presence online. Fill out each section of your profile on these three networks to optimize them to the fullest.
Share Valuable Content along with visuals
When sharing content, use original content, non-copyrighted photography to boost how engaging your posts are. Another option is to use visuals in the blog post, as visuals resonate more with people as compare to texts.
Follow Other Doctors on Twitter, LinkedIn, and Facebook
Start by reaching out to your existing network of contacts that you already know by searching for friends and colleagues in the medical field. Follow and connect with these individuals to foster a following that you can continue to build from.
Participate in Existing Conversation on Twitter
Twitter is the best social media platform for public one-to-one conversations at large scale. Start discussions with other doctors and medical professionals to address current trends. You can also discuss about the recent industry news along with interesting findings or studies.
Monitor Your Pages Regularly
One of the biggest challenges for any doctor is to find the time to keep the business running. Social media isn't something you do in your free time. You have to constantly post new content or respond to followers.
Thus, Social Media can help you build these relationships with all of your prospective patients, but only with a solid strategy in place.
Our team at Candent SEO, Best Digital Marketing Company Patna recognizes your busy schedule and understands the need for your digital presence. That's why we offer you the best Digital marketing services to give you an optimized website ranking.
In addition to that, we also provide other services like Website Designing, Content Marketing, PPC ads, and SMM. Along with Digital Marketing Course, if needed to reach your prospective customers.
So, if looking for a Digital Marketing Company in Patna, Bihar, feel free to contact Candent SEO for top results. And also for supercharging your website, so that it becomes a legitimate sales tool for your business.
About PRAKASH CHANDRA
Prakash Chandra is the focused Professional Blogger and SEO Expert with zeal to make the significant contribution in growth-oriented organizations. He is a techno-geek straddling over digital marketing and web exposures, have carved a niche in the industry.