Best Website Designing Company in Patna | Candent SEO

Website Designing Patna
Let First Impressions Last Forever!!
Looking for a beautiful, new website?? Well you are then at the right place…
Yes, you heard it right!!
Candent SEO is the platform for you…
We at Candent SEO deliver cutting edge websites which are beautiful to look at and perform equally well. We assure a solid user experience, delivering substantially higher audience engagement and conversion rates.
We design custom websites for businesses which maximize brand engagement and communicate your message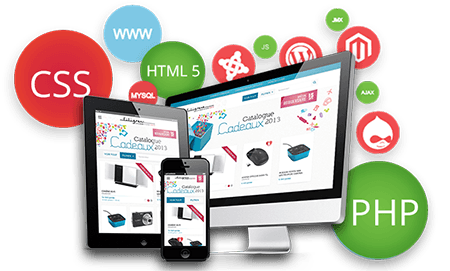 Usually a website include wide range of functions. Talking about today, it would definitely not be wrong to say that for a website, pretty or attractive look is just not enough. Your website is require to be set up for driving conversions, conveying what your brand is all about and allowing visitors to engage with it's respective content.
Candent SEO (being best website designing company in Patna) include web designers who effortlessly craft elegant sites with awesome usability which measurably achieve results.
Experts at Candent SEO analyse your business and target audience. Further then they combine this knowledge with custom website design practices. This helps in creating a website that ultimately wows your customers and generate leads.
Create responsive websites with excellent performance and great usability.
Built site with spontaneous features, engaging the visitors and fulfil your respective unique business requirements.
Capability of managing your website content anytime from any device.
Candent SEO offers a wide variety of website designing services in Patna
---
Responsive Websites
Are you aware of the fact that today in India,
mobile Internet usage
is expected to increase by
25%
each year (which is equivalent to
519 million
)?
Hopefully Yes!!
If no, then its important for you to know that with fruitful prospects approaching at breakneck speed, is your website mobile-ready?? Has it been build for responding to a multitude of screen sizes and devices?
All these prospective are important to consider in today's date for running a healthy website.
Mobile Website Designing
More Engagement, More Clicks!!
Hook your users with our highly innovative mobile design. Our mobile design elements have been crafted in a manner that will engage more, leading to more click.
Candent SEO, top website designing company in Patna, offers exclusive mobile website designing services. Today, web is going mobile – especially on the Blackberry, iPhone, Tablets, PDA's and several other hand-held devices.
With faster bandwidth and lower rates spread across the world, no business in Patna and other regions can afford to have only computer-based websites. Around 30% of the total 2.5 billion mobile users make usage of hand-held devices for browsing the net.
The science of mobile website designing is not easy!!
It requires careful understanding, specific fonts, optimized images, narrower layout and careful choice of vital elements which requires to show up first. We at Candent SEO, have gone all these requirements thoroughly, and thus hold the potential of doing mobile website development of several complexities.
With our mobile website designing services in Patna, users with iPhones, Blackberries, Ipads, PDA's and several other devices can browse your website more comfortably than your competitors.
Candent SEO besides, also design user interfaces for mobile applications.
---
CMS-Based Websites
Your Content, Your Management!!
Candent SEO owns a reputation for high quality website designing services in Patna. We aside from this, are also expertise in CMS based website designing & development. With the rapid change in information, you require the flexibility of managing your website quickly and efficiently.
In a case of having enormous amount of content onto your website updated on regular basis, opt for our Content Management System for managing the content on your own. Despite of the fact that our CMS is technically strong, we ensure that it is easy to operate. Our CMS is simple, efficient and doesn't require any HTML core skills.
We at Candent SEO make use of the latest technologies to tailor solutions for your creation, management and publishing requirements.
---
E commerce

 Web Design
Building intuitive
E commerce website
simply requires a thorough understanding of the product purchase cycle, which actually initializes with the user searches for your respective products.
This is where we come!!
Our team at Candent SEO takes care of the details such as product descriptions, revenue tracking and ad copy.
E commerce Solutions & Services
Candent SEO – Top E commerce Solution Providers in Patna
At Candent SEO (which is the best website designing company in Patna), we work hard and own skills of combining our experience and expertise with E commerce design, E commerce SEO, development platforms, analytics, shopping campaigns and hosting to deliver a custom E commerce solution which is perfect for your business.
Reasons Why to Choose Candent SEO as your E commerce Services Company
Expertise with all the most popular Ecommerce development platforms.
Being the best website designing company in Patna, hold experience of deliver 100+ E commerce website across industries.
Average increase of 85% in traffic & 39% in sales over 6 months.
Candent SEO

E commerce

 Solutions & Services
E commerce SEO
Candent SEO experts optimize the top selling products of your store with an on-page as well as off-page E commerce SEO strategy which drives loads of organic traffic to your respective website. In a case if you do offer omni-channel retail, it is advised here to use our Local SEO Services for driving footfalls to your offline stores.
E commerce Hosting
Usually under-estimated, E commerce hosting do plays a very crucial role in your website performance and thus the shopping experience of the user. Experts at Candent SEO, being well experienced in E commerce hosting, includes potential of helping you out in migrating to a solution which ultimately boost up website performance.
E commerce Website Development
Candent SEO (being best Website Development Company in Patna) cater to multi-disciplinary needs of security, performance, usability and scalability.
E commerce Website Designing
We believe in investing time to understand your audience and providing them Ecommerce website designing services in Patna, customized to the needs of industry.
Conversion Rate Optimization
As such of content optimization, conversion optimization is not quite. It is instead an art and we're definitely passionate about our collection.
App Store Optimization (ASO)
If you offer your shoppers a mobile app, we at Candent SEO, invites you to use our ASO services for driving app installs on Apple and play stores.
E commerce PPC Advertising
Experts at Candent SEO (which is awarded as the best website designing service provider in Patna) owns ability of understanding the unique demands of your products and hence delivering a high-octane PPC campaigns to maximize ROI and decrease the cost of acquisition. We work via combining Google Shopping Campaigns with Amazon Ad Services, Facebook Advertising for unimaginable E commerce sales.
E commerce Analytics
Digital marketing experts have always referred analytics highly critical to understand in a case if E commerce marketing campaigns are delivering appropriate results. We at Candent SEO (the best website designing company in Patna), combine our expertise with the E commerce Analytics & Conversion Rate Optimization for offering in-depth analysis and practical solutions to maximize the sales.
All-in-one Candent SEO offers highly comprehensive E commerce Solutions & Services for all businesses as well as industries of all sizes.
[/su_note]
FAQ about Candent SEO Web Design Services
Candent SEO is located at Kankarbagh in Patna. However we have clients from all across India and several other countries also. We are comfortable communicating with you through email, phone or whatever else is convenient for you.
Definitely. We include skills of designing your website from scratch without making usage of stock templates or present designs. Our custom web designers make selection of the architecture of your site depending onto your requirements as well as brand image.
Candent SEO is the best SEO Service Provider in Patna, so is expertise at search engine optimization. Our experts ensure that each of our website follows the best practices to provide you with maximum organic reach. Given how competitive the industry is, its really important for you to consider our professional SEO services.
Candent SEO (being the top website designing company in Patna), ensures that each of its website is fully responsive and adjusts seamlessly across distinct screen sizes.
Yes. We at Candent SEO, provide detailed training onto your CMS, enabling you to manage and update the content of your website onto your own.