Digital Marketing For Hospitals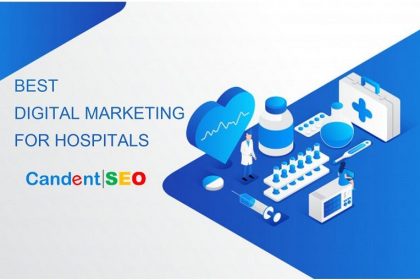 The healthcare industry is continually pursuing the next technological advancement. Whether it's a new, improved treatment, a groundbreaking facility or the expansion of physician specialties. And for the marketing, hospitals' efforts to acquire new patients have increasingly gone digital. A much bigger Digital Marketing Company in Patna like Candent SEO came up with unique digital marketing strategies for hospitals. Digital marketing for hospitals are now like oxygen for human, you can't ignore digital marketing.
There are many things that show digital marketing strategies for hospitals are now mandatory. Apart from that, you should also choose the best digital marketing ideas for hospitals. If you do not have a digital marketing team don't worry come to Candent SEO for best digital marketing strategies for hospitals. We have the best team of analysts and marketers so you will get all the marketing solutions as well as services at one point.
Now, what you will get after implementing digital marketing ideas for hospitals.
Why Digital Marketing For Hospitals
Here are some of the important reasons why internet marketing is necessary for hospitals.
Prospective Patients Live in a Digital World
 As the saying goes, success is a matter of fishing where the fish actually are…and, in a digital age, everybody knows what it means online. Virtually all health care needs—those that lead to a doctor or hospital selection—begin with digital world searches and research.
Digital Metrics Are Powerful And Accurate
It is significantly faster to mount a digital campaign and to quickly realize trackable and significant response.
Digital Marketing And Advertising Tools Can be Highly Localized
This capability is extremely important in cities, suburban areas and specific market territories. This feature means effective use of the budget, reaching the specific target audience.
There are many other reasons also you can read it out in digital marketing in healthcare pdf.
Now, who will give the right combinations of digital marketing and public health, obviously those who have experience of all these things? Best SEO Company in Patna Candent SEO has amazingly contributed to the success of many healthcare giants.
Here are some of the digital marketing ideas for hospitals by that Candent SEO will make you #1 in your industry.
Digital Marketing Ideas For Hospitals
An Easy-to-Navigate Website
Your website serves as the welcome mat to your organization. It typically is the first impression your company will make and plays a strong role in a patient's decision to choose your facility or go elsewhere, so you want the user experience to be as easy as possible. Chances are if someone is on your website, they are looking for answers for themselves or a loved one and want to find what they're looking for quickly so they can take action.
An Informational Blog
Your blog goes hand-in-hand with a strong, user-friendly well-navigated website. With around one percent of all searches on search engine results related to medical symptoms including 3.5 billion Google searches, that's 35 million online medical searches every day.  So, you can take advantage of all those searches with rich blog content that provides information on health conditions, quick tips, answers to questions, and advice they can get without going to the doctor.
Resourceful Emails
It's true that patients go searching for information, but email is a way to be a step ahead. What if the information was in their inbox before they had to even look for it, this kind of things shows you care for them? By sending out an email newsletter at least once a month, you'll continue to educate patients. By providing them with fresh content they can apply to their own health.
There are many more unique ideas our team has to visit us or call us to know more about it.
About PRAKASH CHANDRA
Prakash Chandra is the focused Professional Blogger and SEO Expert with zeal to make the significant contribution in growth-oriented organizations. He is a techno-geek straddling over digital marketing and web exposures, have carved a niche in the industry.