Difference Between Web Designing and Web Development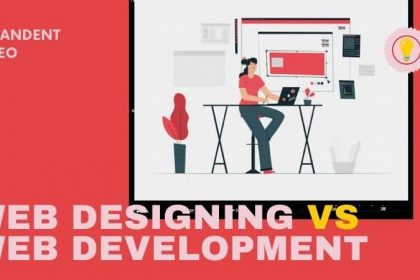 Whether you just want to update your current website or build a new one from scratch, you might find yourself wondering what's the differences when it comes to Web Designing Vs Web Development.
With two closely related terms, it's easy to get confused. Also, when you need a specific service for your website, it's essential to know whether you should hire a Web Designer or a Web Developer to get the job done.
So, to avoid your confusion, we have decided to give you some insight into both Web Design and Development along with the Difference Between Web Designer and Web Developer.
Web Designing Vs Web Development: Meaning
Let's start off by framing the comparison through something we all know by just imagining the term.
What is Web Designing?
Web Designing refers to giving/designing an aesthetic appearance to your website and how the different pieces and parts work together to create a successful online space for your business.
Web design governs everything involved with the visual aesthetics and usability of a website—colors scheme, layout, information flow, and everything else related to the visual aspects
A Web Designer doesn't only build your website — rather, they use programs like Photoshop and Illustrator to create a prototype of your home page and unique internal pages.
What is Web Development?
Web Development is basically the task associated with developing websites for hosting via the internet. The web development process involves web design, web content development, client-side/server-side scripting, and network security configuration.
When you view your website on the web in a browser, it is because of all the processes involved in web development. Web Developers are the one who does all these jobs of developing the website using tools such as HTML, and Coding Languages.
Now, let's move on with Web Developer vs Web Designer to know more about the two roles.
Difference Between Web Designer and Web Developer
In this digitally super-revolutionized era, it is very important for every person to know about the latest and thriving careers in the market.
Speaking of this, undoubtedly Web Designers and Web Developers are emerging as the two most trending career options right now. Before going further, it is vital to know the difference between a web developer and a web designer.
Web Designer
A Web Designer is the first person who gives the idea and layout of the complete web site. They design the overall look & feel of the web page and create a plan of how and where every element of the website will go.
The main job of a web designer is to create or imagine such an interface that could catch the attention of the users and the interface should be logical, which means it could be implemented by the web developers.
Roles of a Web Designer
A Web Designer uses tools like Adobe Photoshop, Framer, or Sketch to design the blueprint of the website.
A web designer must have good skills in Graphic and Logo Design.
They must know how to design a website with a rich user interface with less complexity.
They also need to design the proper slot where all the elements of the website will fit such as images, buttons, and other general formats.
A web designer needs to update the layout of the website according to the market trend and also try to introduce new features on the website.
They should know which colors and font format will be fit for the website.
A web designer should know about Search Engine Optimization, so they design such a website which could rank on the famous Search engines.
They need to design a balanced and logical layout.
Web Developer
Web Developers are the programmers who give life to the Web Designer's Layout, web-developers use the Mark-up and Programming languages to write the code for the website.
There are two types of web developers:
Front-End Developers
Back-End Developers
Role of a Web Developer
Build the User Interface for the website using tools such as HTML, CSS, and JS languages.
It's the job of a front-end developer to build such an interface that could load fast on any browser.
It's a Job of a Front-End Developer to create such Interface which could hold dynamic content from the backend.
Back-End developers deal with the main logic and database of the website.
There should be clear communication between the back-end and front-end developers.
It's a Job of the web-developers to design the exact model that has been presented by the web-designer
We have each and everything, needed for the Growth of Your online Website.
Web Designer Vs Web Developer Salary
It's very hard to find a job as a Web Designer. Many companies do not offer the Job for web-designer they just simply ask their front-end developer to design an interface.
On the other hand, finding a job as a Web-Developer is very easy. But you need to update your skills with time. This is because the technologies used to build websites update every day and it might be possible that the tools you know get obsolete in a year or so.
As there are not many jobs for web-designers this also affects the salary. Web-designer is always paid less as compared to the web-developer.
However, the Salary may differ from Organization-to-organization and the Designer and Developer Experience but the designer always paid less.
Can You Be a Web Designer and Developer Both?
The new term called "Devigner" is coming from the design and development filed. This means they are both web designers as well as developers, and it may get you more money. But let me be clear, you can do both web design and development jobs, but you can't be good at both of them.
So, we would suggest that either are you a web design or a web developer. You must focus on one of them, so that, you can be more professional in this field, and it will be much easier to plan your career.
Although having the ability to execute front-end development make a better designer, but you don't have to go deep. All you have to do is to take some basic Web Development Courses, such as coding language, in order to communicate with the web developer as well.
Conclusion
The arguments of Web Designing Vs Web Development are always non-stopped. Both web designers and developers are playing an indispensable role in the digital world.
We hope this article clarified the differences between the Web Designer and Web Developer and will help you to decide how to make a choice between them.
About Nishi Gupta
Nishi Gupta, Digital Marketing Consultant and veteran in online marketing offers experienced, professional Internet Marketing and Social Media solutions. She is also a professional blogger with passion to contribute in the growth-oriented organizations.