Candent SEO – Best SEO Agency for Startups and Small Business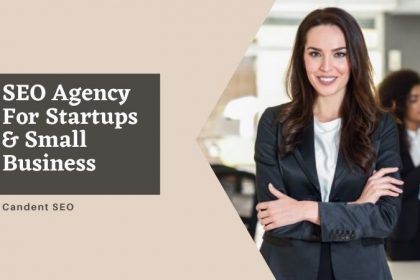 Search Engine Optimization (SEO) is a complicated activity with a lot of factors. In order to achieve pre-determined business objectives, it's imperative to strike a balance in these factors in order to ensure impressive site ratings.
If you are all set to launch your small business or startup or have already launched, it is important to make an investment in affordable small business SEO. These SEO services are designed to enhance visitor's traffic to the website helping it to find a place in the top rankings of the search engine result pages.
At Candent SEO – an affordable small business SEO Company in Patna, we begin our work with SEO tune-up wherein we lay a strong foundation for our strategies. Once it is in place, we start with our work.
We also ensure the perfect implementation of our SEO Strategies so that the best results can be enjoyed. We will discuss these SEO strategies later in this blog only, but before that let's look at – 'Why SEO is Important for Business?
Why SEO is Important for Business?
Search Engine Optimization (SEO) is a technique that generates lead organically. The best solution for both lead generation and branding is nothing but the proper utilization of SEO Techniques.
However, the benefits of SEO for Business include:
Increased Targeted Traffic
Identifying the right business keywords and optimizing the keywords in relevant webpages, will improve the ranking and increase in targeted traffic to the website from SEO.
The top positions on search engine result pages are a prime online real estate – these generate the most impressions and clicks, which leads to more website visitors, and ultimately, more conversions.
Reduce Dependency on Paid ads
Nowadays paid ads are becoming very expensive. Therefore, ranking websites organically for business keywords through the SEO process will reduce the dependency of paid ads.
Branding
SEO process will improve website visibility, it will result in creating brand awareness among the target audience, increase in organic traffic and conversions. Getting a website on the top position in search engine pages means that it will ultimately get a high number of impressions or views.
In addition, being on top of search engine pages for your targeted keywords will allow users to associate your brand with those same keywords. This, in turn, increases the trustworthiness of your brand.
More User Engagement
User engagement is always high for the SEO visitors, optimizing the target pages with relevant information will engage the users and spend more time on the website by visiting other pages.
In addition to that, users trust more on organic results than paid results in SERP. So Cost per Acquisition (CPA) of SEO leads are very less compared to paid campaigns CPA.
Qualified Leads
Ranking websites on top of the search engine results page for target keywords will help us to generate more qualified leads compared to other paid channels.
SEO gives the business the ability to track and quantify results, which allows one to see how their digital marketing efforts are doing and if any type of adjustments is needed.
Cost Effectivity
Compared to the traditional methods of marketing, SEO is significantly more cost-effective because one can specifically target the audience who are actively looking for the product or service online.
The more defined their target consumers are, the more likely it is for you they achieve a successful marketing campaign.
Started a Business, and looking for your SEO services to get done?
Then, Start Working with us today!!
Why choose us for Your Small Business SEO?
If you wish to digitally advertise your startup business, you are in the right place. We follow White hat SEO techniques to increase traffic and keyword rankings. Our process starts with website and brand auditing and continues till we get top ranks for all keywords.
We also build quality backlinks, increase domain authority, and improve website performance using proven SEO tactics. Thus, if looking for a Startup Creative Agency or Local Business Marketing Agency, then feel free to consult us.
Our SEO Agency for Startups and Small Business Services include:
Goal-Oriented SEO
Due to our result-oriented SEO, we achieve success to meet the client's requirements for their startup business. We provide your business higher ranking, traffic and conversions, and highest revenue.
Perfect Planning and execution
Effective and well-planned SEO for startups is the secret of achieving the goals as per the client's expectation. We first do planning with deep analysis and then execute our task with full dedication.
Customized SEO Services
On the client's demand, we will please offer customized SEO services for the startup industry. We offer the startup business SEO service packages that generally come under the client's budget.
Right Expert's Guidance
We own the well qualified an expert team of startup business SEO service providers. Our startup business SEO team is highly experienced for all startup business categories.
Close Customer Relationship
We work with the closest relationship with you while executing our SEO plans. We accept your valuable suggestions and implement them in our strategies to meet with all your business marketing goals.
Effective Support
We provide our clients with excellent customer support. Our clients can get in touch with us via a direct phone call, email, or online chat system.
Our Promises and Offerings
We create and execute an impressive Digital Marketing Plan to help your Small Business or Startup grow online, as well as to achieve your marketing goals. Ensuring client satisfaction is at the heart of what we do at Candent SEO Agency (One of the best Digital Marketing Agency for Small Business).
Our Digital Marketing Company, promise to make every engagement with us meaningful. We are considered as a boon for all who want to increase their sales and digital presence in their industry. Our honesty in the work we do and believe in quality service makes us one of the Best Digital Marketing Company in Patna.
Our Experience Lets us Help you to:
Drive response & generate quality leads
Engage with your customers
Outperform your competition
Understand your customers
Target the right audience
Increase your return on investment
Build your brand
Our main purpose is to imprint the valve on a brand so that it knits a wonderful tell-tale. Thus, if you want to create success stories of brands that glow brightest in the digital space, then join with us.
Candent SEO | Best SEO Agency for Startups and Small Business
No matter what popularity and establishment you have gained if you are not at the top of Search Engine Result then it could be possible that you will lose the competition.
Thus, being the Best SEO Agency for Startups and Small Business, we are a team of highly experienced individuals who are well-versed in providing the best digital marketing services and to help your business grow. We strongly believe in providing the highest quality consulting services to our clients on time and within their budgets.
Candent SEO, Digital Marketing Agency for Startups, do not believe that our work is over once the services are delivered. We believe that it begins after the services are generated, with the ripples it creates.
So, this was all about 'SEO Agency for Startups and Small Business'. Hopefully, after going through this blog you would surely consider us regarding any sort of digital marketing requirements.
Work with Best Digital Marketing Agency for Startups in India…..
About PRAKASH CHANDRA
Prakash Chandra is the focused Professional Blogger and SEO Expert with zeal to make the significant contribution in growth-oriented organizations. He is a techno-geek straddling over digital marketing and web exposures, have carved a niche in the industry.