8 Reasons Why It's Time to Get a New Website | Benefits of a New Website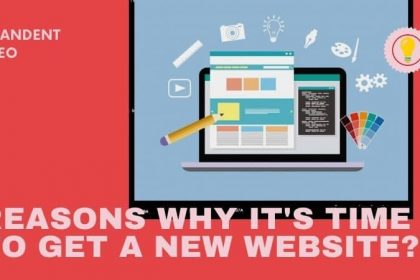 For many of us in the marketing world, our websites are like our children. No matter whether they generate leads or not, we're attached to them.
Though most of us don't want to invest or do any changes in our current website design – but face it, we probably need it.
This is because many of your prospect's first impression of your company will be based on what they see on your website. A website redesign is not a small task or investment, but it's one that pays returns in the long run.
So, if you're in a dilemma of whether investing in a website redesign is suitable or not.
We've compiled a list of Reasons Why It's Time to Get a New Website which also covers the Importance of Updated Website.
We have each and everything, needed for the Growth of Your online Website.
Reasons Why It's Time to Get a New Website
Your website may have been the latest and updated a few years ago, but as technology and design continue to evolve, it's vital to keep your website looking new and fresh.
Business success is all about first impressions and your website is the first thing people see after doing a search for the products or services you offer.
You may think that simply having a website is already good enough. However, there are several reasons why to Redesign Your Website is necessary and why you should strongly consider investing in a new website design.
You Want to Create a Better User Experience
User Experience (UX) is becoming increasingly crucial today in a website's success. It deals with the emotional experience a visitor has, while navigating through your website and how it aligns with their intentions.
A site that is tough to navigate has slow load times, or is unnecessarily complex can leave a bad impression in your visitor's mind and cost you valuable leads. In fact, 88% of online consumers are less likely to return to a site after a bad experience.
Thus, if your website is guilty of these bad UX practices, you should look into a website redesign that focuses on creating a more enjoyable experience.
To improve the UX of your website you should – Implement the use of a user analytics software, such as Hotjar or google analytics, to keep continuously improving your site's UX.
Your Current Website Isn't Mobile Responsive
If your website isn't mobile-optimized, chances are you'll miss out on valuable leads and even customers.
This is because people want to get the information when and where they need, and if your website can't deliver it to them, they'll look elsewhere.
So, if you haven't mobile-optimized your site yet, look into a content management system that's out-of-the-box responsive. This will get you up and running faster with little development knowledge needed.
Your Current Website is Slow and Unresponsive
If a website takes longer than 5 seconds to load, you are out there. If your site doesn't load quickly, you're going to miss out on sales from all the impatient people (almost everyone on this planet ever).
Your Website Just Doesn't Work
Have you ever been to any site that was almost impossible to use? You wait forever for it to load only to be presented with broken links, outdated offers, and a layout that isn't optimized for a modern-day browser?
Not only is it frustrating, but it also makes you less likely to view that website as being reputable. However, your website might not be at this level of broken, but areas of your site may be dated and in need of a tune-up.
These issues might seem small, but they play a very significant role in the overall effectiveness of your website. So, neglecting this for too long can have a significant impact on your traffic and lead gen efforts.
You Aren't Getting Much Traffic from Search Engines
Search engine optimization is a necessity for all businesses. However, if your website isn't to search engine friendly, to begin with, then there isn't much to optimize.
But before you jump the gun and get a brand-new website, review the content on your site. This problem could be fixed with a bit of rewriting content to give your keywords a boost.
However, if you are too busy or too lazy for this work, then, you can always take help from a Digital Marketing Company.
Candent SEO – Best Digital Marketing Company in Bihar – is always ready to help you out. Our team comprises of highly skilled Content Writers and Web designers that not only helps in catapulting your target audiences. But also supercharges your website so that it becomes a legitimate sales tool for your business.
You Want to Convert More Leads
Perhaps the appearance of your website is fine, but your website is still not converting and getting leads or customers. If this is the case, consider revisiting your landing pages and calls-to-action (CTA), or conversion paths in general, to see where they are falling short.
It might be possible that your landing pages are too complicated. the language used in your CTAs is unclear, or people simply can't find one when they need it.
Either way, you should try to make the necessary changes to pull customers deeper into the sales funnel.
Your Branding is Outdated
Alike your marketing goals, your company's branding needs to be consistent with your website. If you've recently undergone a rebrand, you'll want to update your site to reflect these changes.
Therefore, when updating your site, keep in mind that a rebrand isn't just about your logo or colors. But it also includes the content and language used on your site. As you don't want people to land on a page and think it doesn't look or sound like it came from the same company.
You Need to Re-Align Your Website with Your Marketing Goals
As your company grows, it's not uncommon for your sales and marketing goals to also evolve. Keeping your website aligned with those goals could be a tough task, but it's essential for digital marketing success.
Thus, try reviewing your site quarterly to make sure it's actually working towards your specific goals (i.e. increased traffic, leads, etc.). If not, it's time to make some updates.
So, the above-mentioned points clearly state Why a New Website is important along with the Reasons Why It's Time to Get a New Website. But the question is what are the things you should keep in mind while designing a new website.
To know this read the next section…….
What to Look for When Getting a New Website
Planning a new website for your business can be daunting. As there isn't a one-size-fits-all solution. But there are a few basic functions and content areas you should include to make it an effective marketing tool.
Some of these include:
Your Contact Information
About us section
Valuable Content such as Blogs
Testimonials and case studies
SEO Strategy (Optimizing your site with relevant keywords)
Geographic Information
Live chat option
Images/videos of your team and work
Subscription offer
Social media details
Search functionality
So, follow these practices, and you'll have a website that shows off your brand personality and gives each of your audience members a place to engage with you.
Conclusion
A website creates the potential for a long-term relationship with your audience, one that works for them and your business.
If you are embarrassed by your website and avoid telling your clients about it, then it should be out with old and in with the new.
Your company website should be something you and your employees are proud of. It should represent your company well and contain compelling content to attract prospects customers, convert leads, and engage them.
Need help in figuring it all out?
We're here to help. Feel free to Contact us – Candent SEO, providing Best Digital Marketing Services in Patna………
Here we will put an end to this for – Reasons Why It's Time to Get a New Website. We hope you enjoyed reading this blog. If you have any queries you can connect with us through the comment section box below.
Till then, stay tuned as we will be back with more such beneficial blogs………..
About Nishi Gupta
Nishi Gupta, Digital Marketing Consultant and veteran in online marketing offers experienced, professional Internet Marketing and Social Media solutions. She is also a professional blogger with passion to contribute in the growth-oriented organizations.