9 Common PPC Mistakes That Affect Your Advertising Campaigns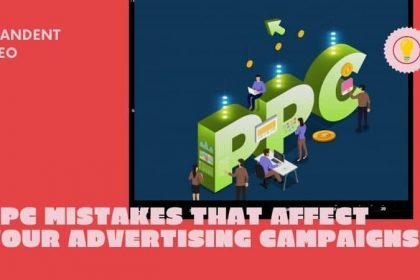 For those taking their first step into paid marketing or Pay-Per-Click (PPC) Advertising, it can seem to be a little confusing. It's easy to feel lost when terms like CTRs and optimization techniques are thrown around. Also, for PPC beginner it can be very easy to make simple PPC Mistakes that may Affect your Advertising Campaigns.
If you aren't seeing that success you expect from your paid search marketing campaigns. Then check to make sure you aren't making these critical mistakes. These mistakes might look small or simple but can affect the long-term performance of your PPC strategy.
This blog here includes commonly made PPC Mistakes That Affect your Advertising Campaigns from industry-best practices. It also includes some tips to help you dodge commonly made mistakes along with ensuring your PPC campaign is set up for success and delivers results.
Mistake #1: Not Having Specific Goals
This might sound silly, but before you start, ask yourself: What is the goal of this PPC Advertising campaign?
You might think "more leads" or "more revenue"—which are good goals—but let's go a step deeper.
Sure, you want more leads, but what kind of leads do you want? Who is your ideal lead? Who your target market is?
These should be some ideal questions, that you should ask yourself before starting the PPC campaign. Knowing the answers to these questions will help to inform how you need to run your campaign.
Mistake #2: Not Knowing Your Target Audiences
Why do marketers jump into creating ads before knowing their target audience?
Maybe the idea of getting conversions or leads is more appealing, than taking real-time to understand your audience. That approach will ultimately lead you to only short-term gains.
And remember,
Short term gains = short run of conversions and leads
You may get leads now, but investing the time and identifying your target audiences is critical to reaping the benefits of digital marketing. This also helps in creating longevity within your campaigns.
You Might Refer Reading: Digital Marketing in Patna 
Mistake #3: Account Structure
Poor Google Ads account structure is the usual culprit if a PPC campaign fails to deliver results. So, make sure that your keywords are as specific as possible when you define your Ad groups. Make use of exact matches, negative keywords, and avoid broad matches that could result in wasted clicks.
While many agencies structure Ad Groups by match type, this creates a higher workload and drain on time resources that could be better-used testing campaigns and optimizing performance. A better approach is to structure the Ad Groups according to the topic/idea only.
Campaign Structure to Follow:
Campaign Name – Ad Groups – Keywords.
For Example:
Campaign Name – Coffee Tables
Ad Group – Oval Coffee Tables
Keywords – oval coffee tables, coffee tables oval, etc
Mistake #4: Keyword Usage
Keywords are the building blocks of every successful PPC campaign, defining where your Ads appear to users. If you fail to understand what keywords are and how to use them, your PPC campaign is destined to fail.
Therefore, you must first do a PPC Digital Marketing Campaign Analysis, select highly relevant keywords, and then place an appropriate amount of these targeted keywords into your Ad groups. The general best practice in PPC is to insert 4-5 keywords for each Ad group.
The goal is to identify targeted keywords that will attract relevant users and to minimize irrelevant search terms.
Mistake #5: Not Adding Exclusions
As a digital marketer, we can often get caught up in the targeting cycle. While analyzing and deciding who is the right audience to target, it's easy to forget the people that we do not want to target. But how do we do that? Exclusions!
Effective exclusion lists help to increase the likelihood that your ads get clicked and ultimately reduces your advertising costs – fewer ads being shown to the wrong people.
Few Exclusions to Consider When Launching a New Campaign are:
Locations
Audiences
Age
Gender
Keyword
Placements
Mistake #6: Not Managing or "Optimizing" The Campaign
PPC is not a "Set-It-And-Forget-It" type of advertising.
Unlike static/traditional advertising like print ads or billboards, online PPC advertising campaigns needs to be looked after, managed, optimized, and tweaked as necessary.
There are always optimizations and changes you need to make in order to improve campaign performance. Reviewing keywords and search terms, testing new ads, and trying out different bid strategies are just a few things that you should be doing regularly.
Make sure you are checking on your campaign's performance and budgets more often and adjusting your campaign based on your results.
Mistake #7: Having A Bad Website
When you're running a PPC campaign, you might be highly focused on your keywords and ad copy. But remember that your website is the ultimate place where searchers will end up.
If you have a poor website experience where people don't convert, then what is the point of paying for traffic to send people there?
So, make sure that your website is optimized, fast, looks good, and brings searchers further into the funnel and ultimately converts.
If you have a bad website, it doesn't matter how "good" your PPC campaign is—your leads won't go anywhere.
Mistake #8: Not Using Re-Targeting
Reaching out to new audiences is important, but you should not neglect the people that have already interacted with your business or visited your website.
People that are familiar with your brand are more likely to trust you, and more likely to pay attention to your paid Ads. Therefore, re-targeting is necessary.
Re-Targeting Campaigns Enable You To:
Nudge along prospects by displaying products they've previously shown interest in.
Encourage repeat sales from existing customers by displaying Ads of similar products to those they have already purchased.
Maximize your CPC by narrowing your focus on to the most interested visitors that are yet to convert.
Mistake #9: Trying to Do It Yourself
Learning Google Ads and PPC Digital Marketing Campaign Tactics can be fun—but it's also costly at the same time.
Also, if you try to do PPC campaign for your business, any PPC Mistakes That Affect The Advertising Campaigns you make, you have to pay for it too.
It might be possible that you can't find the time to do so. Or you work hard and everything looks great, but after a week or two, you still haven't gotten any leads.
Then, while searching, you realize your ad is going to a dead page! You were paying for all of these clicks to go to a dead page!
Sad, right?
So, it's better to take help or hire a professional Digital Marketer for this job. You'll see better results after consulting a professional who handles these campaigns on a daily basis and has the time to manage the campaigns effectively.
If you want to run a PPC Campaign for your business and looking for a Digital Marketing Company in Patna, then Candent SEO is best for you. We have a highly qualified team for this job delivering amazing results for the past 5 years.
Don't think too much, we're just a call away………
Conclusion
PPC enables you to connect with people at the exact time they are actively searching for what your business offers. Therefore, it is an excellent opportunity for businesses. But it's also an opportunity that can go to waste if your PPC campaign isn't set up to succeed.
The good news is that PPC marketing can be highly successful and offer a high return on investment when executed correctly. So, keep these points in mind and follow them effectively before Starting your PPC Digital Marketing Campaign Flow.
By avoiding these PPC Mistakes That Affect Your Advertising Campaigns, you'll be setting up your PPC campaign with the right foundations for success.
About Nishi Gupta
Nishi Gupta, Digital Marketing Consultant and veteran in online marketing offers experienced, professional Internet Marketing and Social Media solutions. She is also a professional blogger with passion to contribute in the growth-oriented organizations.