Candent SEO – Best In-App Marketing Company in Patna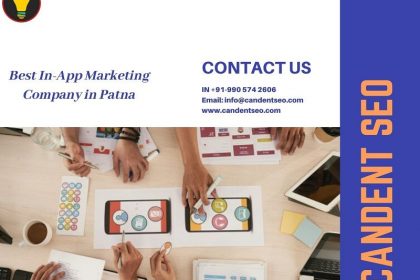 If you don't have a strategy for reaching out to your existing customers, you may lose them faster than you can make new ones. If not, then you may over-message them which can damage your relationship. With the help of In-app marketing, you can make, develop and maintain a proper relationship with customers.
If you are thinking about the mobile app marketing or ios app marketing ideas than read about app marketing consultancy. Effective in-app advertising can make your business broader than your dreams.
So, let's go for the essential things for your agency app that can make a solid relationship between your organization and customer. And you know as the best digital marketing company in Patna we build your agency app with amazing In-App marketing ideas.
Here Are Some Essential Things We Provide You as Part of Your In-App Marketing Ideas…
Studies have found that 80% of app users do not use the apps they downloaded three months ago. However, by investing our time, effort and ideas into a great app marketing strategy we can help create an experience and build brand loyalty that keeps your users coming back.
Onboarding
When a user opens your app for the first time, they want the process of signing up and navigating around your app to be as ideal as possible. If your app appears confusing and difficult to operate then the user can quickly lose interest. Here app Onboarding comes in. Our services of Onboarding involves quickly showing the visitors or user how to use your app effectively while demonstrating the main value proposition. Normally this is in the form of a step-by-step tutorial or can flash up as helpful pointers and tips as the user or visitors makes their own way around your app.
Push Pre-Permission Messages
Candent SEO can help you with an effective push notification strategy that can boost app engagement by as much as 88%. And you know it will do wonders for helping to keep retention levels high.
User Experience
Having a great user experience is critical to the success of an app. However, if users are downloading your app to discover your user experience is poor, then most likely they will never return. As the best digital marketing in Patna, we assure you amazing user experience.
App Store Optimization (ASO)
ASO is one of the best ideas to drive organic traffic to your app store page and boosting app downloads as a result. We work to get your app rank as high as possible for the relevant search terms used by your target user. App store optimization is not a one time job, it involves continuous monitoring and improving where necessary.
In-App Messaging 
In-app messages are like push notifications except that they can only be displayed when the user is actively using the app. This makes them a great tool for communicating and engaging with users who've chosen to opt-out of push, as they don't require any permissions. As the best mobile app development company in Patna, we assure you an amazing user experience by In-App Messaging.
User Reviews
The majority of people have been found to check the reviews and ratings before they download a new app. We ensure you awesome user reviews and ratings with instant response to the user. As a mobile marketing agency, we know when a user is browsing the app-stores they are naturally going to be more drawn to the apps with the higher ratings and reviews. So it's very important for your business, and amongst all mobile app development company in Patna, only we can assure you good rating and reviews.
Artificial Intelligence (AI)
As a web designing company in Patna, we understand the usefulness of artificial intelligence. And as a top digital marketing company in Patna, we ensure this technology for your app. You can use your user history data for your future plans. Artificial Intelligence is the idea of ensuring the maximum possibility of a user's future move.
How We Set Up Your In-App Marketing
(In App Marketing Examples)
Ready to know our steps? Here are the three steps we'll implement in-app marketing.
Step 1: Define Strategy of In-App Marketing
By finding some of your best users – the ones who have been around for a while, a regular user of your app, or have upgraded to a paid plan. What behaviors did they take early on? Does anything stand out? This is where we begin defining your in-app marketing strategy.
Here are some basic questions to we use to formulate a plan:
How quickly should people complete those behaviors?
What behaviors do you want to encourage?
How often do the best users engage?
What's your product's "aha" moment?
How many notifications are too many?
We know that a well-rounded strategy should account for onboarding, engagement, and retention.
Step 2: Choose the right tools of In-App Marketing
To put in-app marketing into practice, we need a few tools. First, we have to choose an analytics platform.
Each tool requires a tracking code integrated into your app. We want to do this with Segment, a tool that streamlines data collection inside apps. Once integrated, the Segment will allow us to easily set up tools for notifications, life-cycle email, customer support, and more.
Now, we can build your splash pages, tooltips, inboxes or modals.
Step 3: Test, Test, Test
We choose an analytics tool first because testing is so important. We analyze detailed metrics on behavior in your app, and we also want the ability to run A/B tests.
Some of the tools mentioned above offer A/B testing features, but we want to check out a tool like Apptimize or Optimizely that is built specifically for mobile A/B testing.
All the amazing ideas followed by a good team make Candent SEO the best SEO company in Patna. So, choose us to get an extra Plus in marketing.
Choose Us To Get An Extra Plus
Tagged under:
agency app
,
android app marketing strategy
,
app marketing consultancy
,
app marketing ideas
,
app store optimisation agency
,
best digital marketing company in Patna
,
best digital marketing in patna
,
Best SEO Company in Patna
,
bihar
,
candent seo
,
digital marketing agency in patna
,
digital marketing company in patna patna
,
game marketing company
,
in app advertising
,
in app marketing examples
,
in-app marketing
,
in-app marketing company patna
,
ios app marketing
,
mobile app development company in patna
,
mobile app development marketing
,
mobile app marketing
,
mobile app marketing plan pdf
,
mobile app marketing plan ppt
,
mobile marketing agency
,
top digital marketing company in Patna
About PRAKASH CHANDRA
Prakash Chandra is the focused Professional Blogger and SEO Expert with zeal to make the significant contribution in growth-oriented organizations. He is a techno-geek straddling over digital marketing and web exposures, have carved a niche in the industry.