How can Small Businesses Respond to Obstacles Created by COVID-19?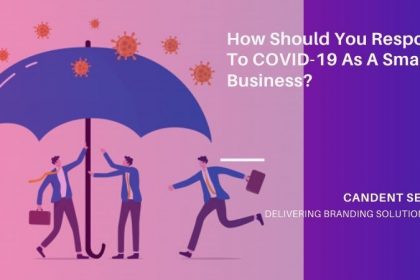 The World Health Organization (WHO) has declared the ongoing coronavirus, or CoVID-19, a pandemic. It's an uncertain time with lots of unknowns, which has created a unique challenge for all of us especially, for small business owners.
For example, if you own a small business, the last couple of weeks must have been filled with long days, more stress and anxiety, and questions about the future, as the country responds to the CoVID-19 pandemic.
School closings, mass event postponements and cancellations, and social distancing have adversely challenged small business models across the country.
But 'How can Small Businesses Respond to Obstacles Created by CoVID-19'?
"While we don't have all the answers, we want to share what we do know and offer some guidance for small businesses that may be experiencing shifts in their business" – says Candent SEO Team, Best Digital Marketing Company in Patna.
How Should You Respond to CoVID-19 as a Small Business?
The first and foremost thing we would like to tell all Small Business owners is that – "Everyone is facing this crisis together, and you are not alone in this situation."
"Your thoughts impact your feelings, your feelings can impact your actions, and your actions can impact your results." So, just Remain Calm and try to be transparent about what your business is going through.
Thus, we're here to provide you some help and support and have created this resourceful blog with examples of "How Should You Respond to CoVID-19 as a Small Business".
Put Yourself in Your Customer's Shoes: Reach Out!
First of all, Business owners should figure out ways to make customers more comfortable in doing business with them in the middle of self-isolation. This helps in building trust and loyalty for customers toward your business.
Reaching out to your customers or clients, asking how they can be helped, and informing them of changes your business is making, can be helpful. Customers generally empathize with brands facing a crisis as long as you communicate with them properly.
This strategy helps to reduce risks, increase convenience, go above and beyond to meet their physical and emotional needs.
Just Go 'Online'
This is the best way to remain in the competition during this pandemic. If you don't have one already, you might set up an online shop or e-commerce solution so that customers can shop 'Online' rather than coming in person.
Another option is Instagram or Facebook Shopping, where customers can shop directly from your Instagram profile.
Also, even if you can't conduct business as usual, you might consider how to keep your customers engaged with your business. Try posting some videos, photos, good content, or just go live on Facebook or Instagram and interact with your customers.
Share Updates with your Customers Time-to-Time
Share important information with your customers using Facebook Page, emails, Instagram Business Profile, your website, or however you typically connect. You might include information about your availability, hours, or measures that you'll be taking to make your premises or products safe.
You can also update your business hours on your Facebook page or let your customers know about temporary services such as online, services, pick-up, and delivery.
Let your customers know they can call, email, or message you with questions. You can also consider adding answers to top questions directly on your websites, when responding to FAQs on Facebook, Instagram, or Whatsapp business.
Plan for Cash Flow Implications & Get Help
Develop and plan for scenarios likely to result in an increase or decrease in demand for your products and services during the outbreak.
Also, determine any potential impact on business financials using multiple possible scenarios that affect different product lines or store locations.
Other Strategies That can be Implemented Include:
Reduce or eliminate all non-business-critical tasks and expenses.
Identify essential, revenue-critical employees and make sure they are focused on business-critical tasks.
If you reduce staffing levels, consider developing rotating work schedules to continue serving clients. Maintain some level of income to as many employees as possible.
Talk to your bank and suppliers about alternate payment arrangements. And to suppliers about extending payables. Talk to your bank about temporary interest-only payment arrangements.
Eliminate excess inventory to generate cash.
If the situation calls for it, reach out to your bank about the SBA Economic Injury Disaster Recovery Loan program.
The last and foremost important thing is to "Keep Your Employees Safe and Informed". Just stay up to date by following credible, official sources such as WHO. So you can safely adapt how to do business, and keep your employees and customers informed.
"We work every day to help business owners to get their game plan together if they need guidance or assistance" – says Candent SEO Team, Best Company for Digital Marketing in Patna. So, you can reach us anytime you want our help.
Here we will put an end to this blog for – "How Should You Respond to CoVID-19 as a Small Business". We hope you enjoyed reading this blog.
You can give us your feedback in the comment section box below. Till then, Stay Tuned……………
About PRAKASH CHANDRA
Prakash Chandra is the focused Professional Blogger and SEO Expert with zeal to make the significant contribution in growth-oriented organizations. He is a techno-geek straddling over digital marketing and web exposures, have carved a niche in the industry.