Google Broad Core Update May 2020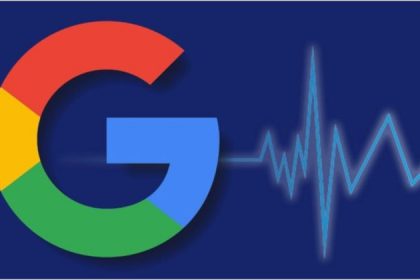 The latest Google Broad Core Update May 2020 is finally here… it's actually been time… since it got published and affected the search engine results…
The update came in the middle of the coronavirus pandemic… Since the situation was already hectic for everyone… so at that time, its arrival affected even harder.
Now, as its rollout is complete, so its time for a detailed analysis of the adjustments it brought in the Google search results.
This May 2020 Core Update took a couple of weeks for its complete rollout and based on its impact seen so far, it would be definitely not wrong to claim it one of the largest Google core updates till yet.
Facts About Google's May 2020 Core Update
As per Google,
May 2020 Core Update started to roll out around 3:50 pm ET on Monday, May 4th.
Alike every other Google updates, this was also a global update. And was not specific to any particular region, language, or category of websites.
This is the reason, it got classified as a 'Broad Core Update', that Google releases every month or so.
Previous Broad Core Algorithm Update
Some of the most recent previous core updates were Google Algorithm Update April 2020, Google Algorithm Update March 2020, Google Algorithm Update Feb 2020 & January 2020 Core Update. Prior to these was September 2019 Core Update. This 2019 core update felt weaker to many SEOs and webmasters, as the majority of them said… it didn't have as big of an impact as previous core updates.
Uncovering the Google Broad Core Update May 2020
As mentioned above, compared to the several previous Google important updates, the May 2020 Core Update is a pretty big one.
As per search engine specialists:
This newest Google Core Update seems to bring up unprecedented SERP volatility as well.
A Glance on Data From SEMrush Sensor: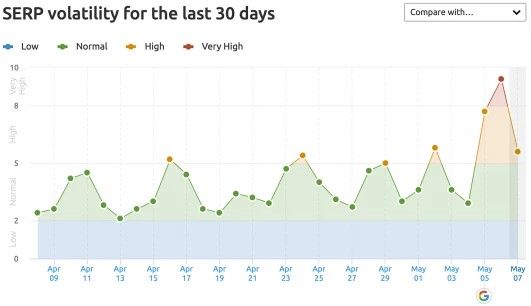 Data clearly reveals the fact that while January's core update only led to average volatility of 8 points, the May 2020 update impacted every category of websites. Every category showed peaking volatility rates – from 9 to 9.4 points.
So, the Google May Core Update is indubitably much stronger and thus influencing the more and more SERPs and positions.
Who Won & Who Lost in the Google May 2020 Core Update?
Though the Google Broad Core Update May 2020 was like any other Google Algorithm update… However, there were winners and losers in the SERPs.
It's obvious to notice ranking drops or gains, once a core update gets completely rollout.
Nonetheless, during this unexpected coronavirus pandemic, we observed queries related to travel, tourism, live events and etc to be significantly down. So, from this its obvious that many of the categories' volatility would come.
Nevertheless, this algo update highly impacted several industries… including some of those already impacted by the pandemic.
The Search Engine Specialist has compared the average volatility value before and after the update announcement… And very clearly the most influenced categories are Health, Real Estate, Pets & Animals and People & society. This conclusion is valid for both mobile as well as desktop searches.
Besides this, we spotted numerous big domains highly impacted… Approximately half of the significant ranking got changed within the US at websites with traffic exceeding 1 million monthly visitors.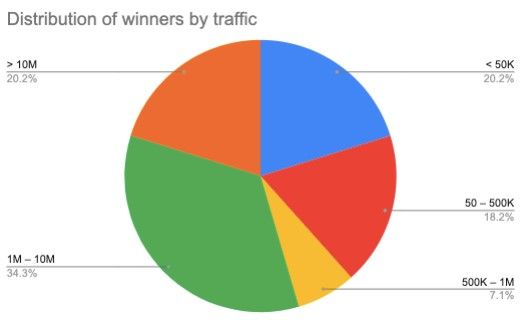 SERP Winners in Google Broad Core Update May 2020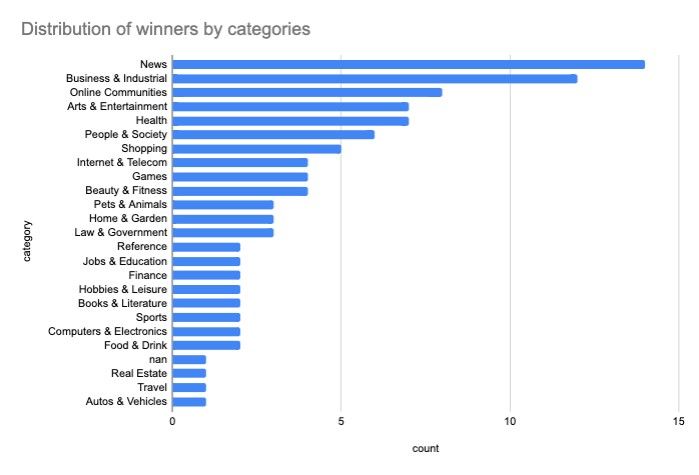 SERPS Losers
Very obviously, the offline entertainment industry has got a very bad hit… And so the websites associated with it, unfortunately.
Google May Core Update 2020 Impact on LinkedIn
Yes… LinkedIn got a sudden disappearance from the SERPs for a short while and encounter some major dips… However, it has nothing to do with Google Update 2020.
Actually, a mistake was made which a number of folks have already made… just perhaps not on a site this much large:

Worried About Your Rankings Down??
Ranking up and down is a common phenomenon that every website owner encounters at certain intervals.
Now, it can never be like you can prevent your site from this. However, some ways are there to track your ranking positions… This can help you out in tracking your website position in Google and working accordingly.
You can set up custom triggers in your Position Tracking campaign. This will automatically email you when you have a downfall in your rankings. More about this, we'll discuss in our next blog.
OK… so this was all about Google's May 2020 Core Update.
Now, you must have heard people calling this Google update as an E-A-T update.
Well here have a small glimpse on Google May 2020 Core Update & E-A-T
Google Algorithm Update May 2020 & E-A-T
Search Engine Specialists in started thought that E-A-T signals are still a vital factor of this May Core Update. But, strong E-A-T signals are not.
However on the contrary to this, according to Searchmetrics founder and CIO Marcus Tober, in this Google Core Update 2020, there is no E-A-T influence. This actually because in the past updates, typical E-A-T optimized websites were among the biggest winners. Nonetheless, this time, E-A-T optimized websites didn't appear to be the big winners.
According to Experts,
The update seems to be somewhat broader in scope than those of previous core Google important updates.
One other reason behind their opinion is the analysis, which clearly shows that this update is not focused on industries covering sensitive topics associated with E-A-T.
This time Google has worked on weighting content factors together along with brand factors. Moreover, factors like CTR – Click-Through Rates have been also included…
So, here find ends up all about Google Algorithm Update May 2020.
Hopefully, your website hasn't been affected a lot. However, if it has, this means you have done something violating Google Guidelines.
Nonetheless, no need to worry… Just fix things on your website which you think are violating Google laws. Evaluate yourself, whether your content is authoritative or not. Moreover, whether it's helpful to users, formatted in a manner for helping out search engines and users. Ensure to fix all the SEO mistakes.
All these measures will fix your website in case if it has encounter downfall due to Google Broad Core Update May 2020.
About Nishi Gupta
Nishi Gupta, Digital Marketing Consultant and veteran in online marketing offers experienced, professional Internet Marketing and Social Media solutions. She is also a professional blogger with passion to contribute in the growth-oriented organizations.