Digital Marketing For Universities [Higher Education Marketing]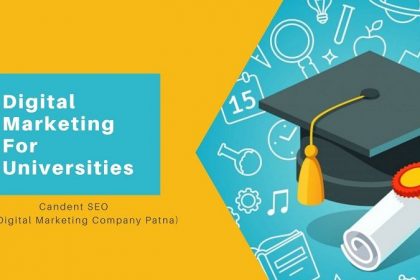 India has seen a dramatic increase in the capacity of its higher education sector in the last two decades. Now, India's higher education system is the 3rd largest in the world, next to the United States and China. Enrolment in higher education has increased four-fold since 2001. With a Gross Enrolment Ratio (GER) of 26.3% (All India Survey of Higher Education 2018-19), India is very close to achieving the target of 32% GER by 2020. Digital marketing for universities is playing an important role in attracting students towards higher education.
As of data, India has 799 universities. 799 universities include 49 central universities, 402 state universities, 124 deemed universities, 334 private universities, 5 institutions established and functioning under the State Act, and 75 Institutes of National Importance. So, in this much high competition marketing a university plays a vital role in attracting students. You can contact a digital marketing company in Patna to know the modern marketing strategy to attract students. Many universities are already using digital marketing in education.
Let's move towards the idea of a digital marketing strategy for educational institutes.
Digital Marketing Strategy For University
Strategies of best digital marketing agency in Patna helps many universities to attract many students for different courses. Here below is the higher education marketing strategies or university marketing strategies that can help you to become the most favorite university amongst students –
Search Engine Optimization (SEO) – Best Digital Marketing Strategy For Educational Institutes
Search engine optimization or SEO is the process of boosting your website's rankings in search engines like Google.
Many prospective students will use search engines to find universities that fit their needs. In order to reach them during the search process, it's important that your website appears on the first page of search results for the keywords they're using. SEO has been referred to as the best digital marketing strategy for higher education.
UTILIZE KEYWORDS
An important part of SEO is selecting keywords. Your keywords will determine when you appear in the search results.
It is best to choose long-tail keywords rather than short-tail keywords. Long-tail keywords contain 3 or more words, while short-tail keywords only contain 1 or 2 words. But you know, best is long-tail keywords because they are more specific to a user's search.
LINK BUILDING
Another important part of SEO is link building. A university site needs to earn links from credible websites to boost rankings in search results.
Links are vital to the university website because it shows other people that the university site is trustworthy. This builds university reputation and authority. Google wants to provide users with the best possible results, so they want to rank credible and helpful sites higher.
USER EXPERIENCE
An important part of SEO is providing visitors a positive experience. You want them to enjoy their time on the university website. One way you can provide users with a great experience is particularly through the university website's design.
Contact SEO Company in Patna Bihar to get all these benefits.
Pay-Per-Click (PPC) Advertising
Pay-per-click (PPC) advertising is another way to reach prospective students. PPC advertisements appear at the top of the search results.
Similar to SEO, these ads are triggered by keywords. You'll want to use long-tail keywords because there is less competition and they'll draw in more credible traffic.
Social Media
Social media is a key part of your digital marketing plan. People of all ages, who could be your students, are on social media. You want to be able to reach and connect with them.
There are numerous social media platforms you can use to connect with your audience. These social media platforms include Facebook, Instagram, LinkedIn, Pinterest, and Twitter.
Social media sites offer many opportunities for colleges to connect with students. Moreover, these sites enable prospective students to get a sense of what it is like to be at that university.
It also works as a digital marketing strategy for colleges. These are great strategies for using this in a better way to go for the best digital marketing company in Patna.
About PRAKASH CHANDRA
Prakash Chandra is the focused Professional Blogger and SEO Expert with zeal to make the significant contribution in growth-oriented organizations. He is a techno-geek straddling over digital marketing and web exposures, have carved a niche in the industry.