5 Simplest Ways to Get More Organic Traffic Without Ranking your Website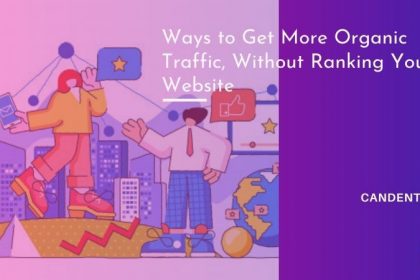 You all know SEO is a long-term game when it comes to ranking your website.
And yes, who doesn't want to be on the top of Google Search Page Results for some of the most competitive terms?
But, the reality is, we don't all have that must abundant time as well as budget.
Then, what should we do?
Well, what if we tell you there are more simple ways to get more organic traffic and, best of all, you don't have to invest much of your time in doing SEO.
So, what is it? And how can we get more organic traffic?
To know this you just have to stay with us and read this blog for Ways to Get More Organic Traffic, Without Ranking your Website.
But before that let's look at "What is Organic Traffic" and "How to Increase Website Traffic through Google".
After explaining these, we will head towards 5 simplest Ways to Get More Organic Traffic, Without Ranking your Website.
Have a read………………..
What is Organic Traffic?
Organic traffic is the term used to describe visits to a particular website coming from a search engine's organic results and not by paid ads.
When users type a query in a Search engine such as Google, they are presented with a set of results that includes both the pages ranking on the top positions organically and a set of ads to differentiate them from the organic results.
When a user clicks on any of the organic results and visits a website this is recorded in analytics tools as organic search traffic.
What Are The Advantages Of Getting Organic Traffic?
Organic traffic is the most important form of traffic you can get to your website. It is more important than paid traffic, or traffic from other social media networks.
The reason is simple because: Organic traffic is Targeted.
Users typing a query in the search engine have a very specific intent and if you can provide them with a solution or answer to their question, you will more likely gain new customers, subscribers, or followers.
In addition to that, organic traffic is important because it increases websites' trust and also has a number of additional benefits.
Users trust Google and websites that rank in the top positions of Google 'Organically'. This means that it is more likely to convert an organic visitor than a visitor coming from any other medium.
You might refer reading: Digital Marketing in Patna 
How to Increase Organic Traffic (for free)?
The best way if looking for – How to Increase Website Traffic through Google – and get more visits from search engines, is to follow proven white hat SEO practices.
SEO stands for Search Engine Optimization and is the process to follow to optimize your website so that it can rank higher in the search engine result pages.
There are many Google Ranking Factors but the most important are:
Publish Content that Users Want to Read
One of the characteristics of users using a search engine to look for information is that they have a very specific intent. Therefore, your job is to satisfy their intent by providing them with the right kind of information.
To do that you need to do your Keyword Research and find out which keywords to target with your content. In order for a page to have any chances of ranking organically in search engines, it has to target a specific keyword or topic.
Pages targeting several keywords or no keywords at all are very unlikely to receive any organic traffic.
Include Relevant Keywords / Search Terms in Your Page Title
The page title is one of the most critical SEO factors. The title is used by search engines to get an idea of what a page is all about and is also shown in the search engine results.
Therefore, it is important to have a good and catchy Page title. A good page title includes Search Terms that users can recognize and is interesting to encourage users to click on it and visit your website.
Get Links from Other Websites
Backlinks from other relevant websites (that don't carry the 'No follow' attribute) act as 'votes of trust' and this improves the organic rankings of a website. In the SEO world, this is known as Off-Page SEO.
Create Easy to Use Websites
Website usability is both a direct and an indirect SEO factor. You need to develop websites that load fast, are mobile-friendly, and free of technical SEO errors.
Failure to do so will minimize your chances of getting organic traffic from any search engines.
There are some other ways too, to increase free Organic Traffic on the Website such as Email Marketing, Online Blogging, and Posting on Social Media Platforms. You can also try these methods as well and can Check Organic Traffic of Website to see the results.
Apart from all these methods, to increase the organic traffic by ranking your website there are some Ways to Get More Organic Traffic, Without Ranking your Website.
Let's have a look………………………
5 Easiest ways to Get More Organic Traffic Without Ranking your Website
Trying to rank on the first search engine result page can feel like a gamble. In fact, you would probably have a better chance of winning the lottery than having your site rank for some of the most competitive search terms.
However, if your website finds itself in a highly competitive niche, there are some workaround solutions you can use to accelerate your web traffic without paying on Pay-per-click (PPC) ads.
So, here we have mentioned 5 Ways to Get More Organic Traffic, Without Ranking your Website.
Offer Guest Posts
Let's say your original intention is to rank a search term "SEO Agency" on google. We all know that there are over 140 million search results for this term. So the odds are stacked against you if you want to rank for this keyword.
Instead of tackling the issue from a purely on-page SEO Perspective, consider generating leads by "Guest Posting" on authoritative sites in your company's niche.
You can piggyback off the authority of high-ranking domains by offering to write pro guest posts. Just be sure to create polished content that provides value to the reader and is worth the time.
Capitalize on Event-Driven Market Shifts
Humans are naturally opportune searchers. Whenever an unexpected event or changes occur, we pull out our phones and search for the best solution or alternative.
If your company is providing some alternative solution for a product trending in the market. To increase you websites reach you could reach out to an authority site and pitch your site or product to its authors to review in a roundup article – since readers are likely to trust a recommendation from an authoritative source.
Invest in Video Marketing
This method is for all the e-commerce retailers out there. Let's say you're in the business of selling cosmetics for women of your own brand. Unfortunately, there's a ton of search volume for cosmetics, and many of the key search terms have exceedingly high keyword difficulty (KD) scores.
Luckily, there's a relatively simple solution to get noticed on the SERP without ranking for high KD Search terms. The trick is to create video content for your store's YouTube channel.
Start by reviewing your products and including links to shop for them in your store. You can also contact some fashion influencers to do videos on these cosmetics to increase your engagement.
Know that Content is (Still) King
Despite using Free Organic Traffic Generator Tool and other techniques to generate leads, there's nothing that will improve the visibility of the site like consistently producing high-quality content.
When you produce useful content for your niche audience, google recognizes it. When your readers spend time on your page without immediately bouncing off, they reward your website with increased visibility. The same goes for when your website is shared on social networks.
Design Infographics on Niche Community Sites
The last step is to create visually appealing infographics with useful statistical information relevant to those in your niche.
If you don't have the Graphic design then get your job done by any Digital Marketing Company like Candent SEO, a Digital Marketing Agency in Patna, by providing them with the data and copy to include in the graphic.
Once you've created a polished infographic that solves a problem or answers a question relevant to your niche, share it. Host it on your website, and start increasing its visibility by sharing it on your social media platforms and community forums in your niche.
Conclusion
Though, there is no magic bullet when it comes to SEO success. However, there are concrete, actionable steps you can take to improve your visibility in the long-term. It starts with producing valuable content in written, video, and visual formats and by sharing them widely with high-authority players in your market niche.
So, this was all about – "Ways to Get More Organic Traffic, Without Ranking your Website". We hope you enjoyed reading this blog and found this blog helpful.
You can share with us your feedback in the comment section box below. Till then, stay tuned……………….
About Nishi Gupta
Nishi Gupta, Digital Marketing Consultant and veteran in online marketing offers experienced, professional Internet Marketing and Social Media solutions. She is also a professional blogger with passion to contribute in the growth-oriented organizations.