6 Common Mistakes to Avoid When Starting an Online Business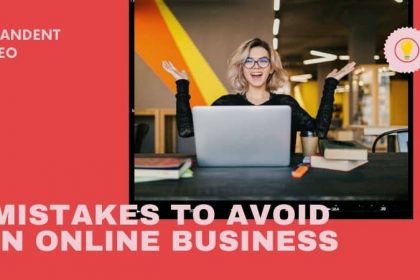 The blog is all about mistakes to avoid when starting an online business… Read it thoroughly if planning a new business!!
In the world of today, online business has taken over. With the assistance of some web tools, business transactions have become easy even without moving from one place to another or having a face-to-face interaction.
Now that you have sufficient capital to start up your online business. It is important to know that as exciting as it is, it is quite easy to make certain mistakes that could cause your online business to go down the drain in no time.
You can find various Online Business Tips and Tricks easily, but very few of them will tell you about the Mistakes that almost every new entrepreneur makes in starting.
So, to make you aware, here, we have composed some common Mistakes that you should Avoid When Starting an Online Business.
Mistakes to Avoid When Starting an Online Business
We are all bound to make a lot of mistakes when running our businesses……
However, there are mistakes that are unavoidable, and then, on the other hand, there are ones that could have been easily avoided. You should do your best to minimize the latter because it's a huge waste of time. But how can you avoid making the same mistakes as everyone else?
Well, for starters, here are 6 common mistakes that almost all new entrepreneurs make…..
Inability to Identify the Correct Target Audience
One thing you must keep in mind is that everyone cannot be your target consumer. Knowing your consumers will enable you to focus on them maximally by marketing to them directly.
By doing this, you will be amazed at how much your turnovers are compared to that of someone that has every Tom, Dick, and Harry as customers.
Not Being Different
Your online business is definitely not the only business in the world. However, that does not mean you cannot stand out amongst them. There are competitions everywhere; some of which are even better than you.
This is the reason why you shouldn't relax and make no mistake of underestimating your competitors. So, be creative and think of ways to be unique. As said earlier, you are not the first, that means the others already have committed consumers; nevertheless, you could carve a niche for yourself by being different.
Lack of Research
Often, a lot of people think because a particular business is online, they could venture into it and make a quick profit. In this case, they carry little or no research; such as surveying the market, figuring out their target audience, how to make their business unique, and the likes- which are the most important things to consider in starting up any business. This mistake is usually made by the newbies in business or entrepreneurship.
You need to know that a lot of time should be spent on researching and planning than building and marketing the business itself. It is like a building with a solid foundation, no matter the storm and rain, it will never collapse.
Note: If you can't give that much time to your business, then it's better to hire a third-party, a Digital Marketing Company.
Our team at Candent SEO provides the Best Digital Marketing Services in Patna. We are equipped with a highly qualified market research team to carry out research before providing the services.
So, if you are looking for a Digital agency to get your services done, feel free to contact us.
Poor Customer Care
Every customer is valuable, no matter how small they are offering to pay to get your products or services. One of the biggest mistakes online business owners make is treating their customers as they do not matter. Your customer service has to be excellent and up to standard.
A pleased customer is the biggest and cheapest pros you can ever have. Ignoring reviews/feedbacks is bad for business as this enables you to know what you are doing right and figure out your weaknesses.
Therefore, you must try to make your customers feel your presence by sending them a mail, thanking them for their patronage, requests for feedback, and asking if you could be of any help. Also, responding to inquiries, complaints, and reviews is not a bad idea. By doing this, be sure your customers will always come back for more.
Handling the Business Alone
Just because it's an online business, it doesn't mean you should handle everything alone. You cannot possibly be a web developer, social media manager, sales representative, customer care representative, delivery man all at the same time. It will definitely hamper your business as it could be really exhausting and as a result, slow down the delivery of your services.
To run your online business smoothly, you have to employ some expertise to fill in the post mentioned earlier.
Unreliable Web Host
For running an online business, you have to make sure your website and social media accounts are accessible at all times. Attention should also be paid to the speed of the website; as it is optimizing your website for online shoppers.
People visiting your website do not have the whole day to wait for just an image to load. They'd rather most likely to go to a competing website that won't even take a minute.
Another issue is the failure to update your online business' website. Fast website speed is a waste when your products or services are outdated. So, it's important to update your site from time to time, nobody wants to order from a stale website.
An online business requires a lot of hard work, dedication, enthusiasm, and consistency, and most importantly, proper planning as much as a regular one, as one could lose focus fast.
These are the Things to Consider When Starting an Online Business. If these things are handled excellently well, it could surpass a regular business in no time.
Conclusion
These mistakes might look silly when written down, but thousands of freshly minted entrepreneurs make them every year, simply because they haven't done enough research into what it's like to run and own business.
Sure, you are going to make mistakes, but again, there's no need to make easily avoidable ones. Don't waste your time like that!
So, don't be one of them. However, if you feel like, you are not capable enough of doing this alone, then you can take help from any Digital Marketing Agency.
And for this, Candent SEO – Digital Marketing Company in Patna, is always there to support you. Feel free to contact us to get the best and desired services.
Here we will put an end to this blog – Mistakes to Avoid When Starting an Online Business. We hope you enjoyed reading this blog.
Just keep these points in mind and we surely believe that one day you will pass with flying colors……………
About Nishi Gupta
Nishi Gupta, Digital Marketing Consultant and veteran in online marketing offers experienced, professional Internet Marketing and Social Media solutions. She is also a professional blogger with passion to contribute in the growth-oriented organizations.