Is Digital Marketing the Future? [Future Trends in Digital Marketing]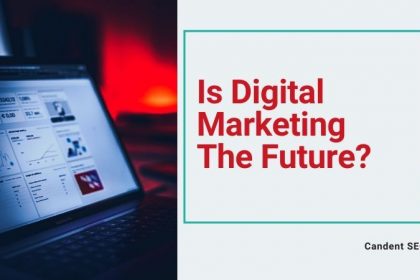 Digital marketing is constantly changing. Unlike traditional marketing, if you don't stay on top of the latest marketing trends in the digital landscape, you could easily fall behind.
From banners to big data, it has continuously adapted to meet the needs of customers and brands alike. Today, with increased connectivity and established digital infrastructure, changes are happening at a much faster rate.
The traditional Digital Marketing landscape of paid media, SEO, content marketing, Social Media, and more, are experiencing dramatic developments and changes as innovations in technology development.
So, in this blog, we have tried to highlight the innovations happening within digital marketing channels and the Future Trends in Digital Marketing.
How will the Future of Marketing Change?
With the unfolding of modern technologies and the prevalence of Digital Marketing, businesses are doing all they can do to match up the pace. They are either changing their plans of action into digital one or are augmenting existing marketing strategies with digital advertising techniques.
So, in this era, it will be unbelievable if anyone says they don't know 'What is Digital Marketing'.
Moreover, technologies to continue to advance at a rapid pace, and so of course, some of these trends are focused around technology. While technologies such as AI and Data-driven Marketing will certainly be big B2B marketing trends, the overarching focus will be on people, not technology.
Is Digital Marketing the Future?
This question arises in everyone's mind – "Is Digital Marketing the Future?"
Do you also think the same way and are in search of the answer?
If, yes, then read this as we have tried to give you a clear picture of this takes through this blog.
There is a push-back against the increased digitization and automation of interactions between brands and consumers. But nobody wants to go back, as because of digitalization everything is available on the tip of our finger.
According to Candent SEO – a leading Digital Marketing Company in Patna – digitalization has now become an integral part of what a business is to its customers. This has also replaced traditional marketing fully and has become the Future of Marketing because of its convenience and affordability.
This is why now many Digital Marketing Agencies are now getting their hands in this business in order to make money by providing services to others.
Future Trends in Digital Marketing
According to current marketing trends, the future of digital marketing will be based more on Artificial Intelligence and Data-driven Marketing. Apart from that, search engine optimization is still ambitious for new digital marketing topics.
But today, these innovative digital marketing trends are among the top priorities for most business owners in 2020. Moreover, these can also be used to Predict the Future of Digital Marketing
Here are some of the Top Digital Marketing Trends 2020:
Strategic Management Transformation
The business of marketing is becoming increasingly complex. Strategic Marketing Transformation is the term used to describe the process when a business operates without a marketing plan.
This means that it evolves by changing its fundamental business processes and procedures.
However, undergoing a marketing transformation can help companies to improve customer experience, service, and to boost brand awareness and reputation.
Live Video
Live video is extremely popular with consumers. People now spend three times longer watching live videos than they do watch the pre-recorded videos. Video is the most popular way for consumers to learn about new products.
When the live element is added to it, this makes the video more engaging. This is because the audience feels they're a part of it. And can influence the content, rather than just passively watching. It's also great for grabbing the attention of your social audience on Facebook or Instagram.
AI-Based Automation
Artificial Intelligence has seen huge advancements in the last few years. There has been a great increase in the number of businesses using AI-Powered Technology and automation to assist their marketing efforts.
This is one of the major technologies behind voice search and smart assistants. It has also made chatbots possible, which are now popping up on almost every website than ever before.
Voice Search Becomes a 'Real Thing'
Three to four years back, nobody spoke about the impending dominance of voice search. But now it is fair to say that there has been a steady rise of voice-based searches, though it hasn't upended the Digital Marketing Landscape.
But, now that is changing. Over 25% of US adults are now owning a voice-enabled device. And 2020 will mark the point when marketers need to start considering voice seriously when devising digital campaigns.
Customer Experience
2020 will be the year of the customers, as there is a massive shift in the beliefs about what marketing actually is. The priority has now moved towards providing a fantastic customer experience. This will keep people coming back for more.
This means that when one focuses on building a positive business culture and providing great services, the marketing almost takes care of itself.
So, now we think that you have got your answer for – "Is Digital Marketing the Future".  Thus, after looking at all this we can say that the Future of Digital Marketing in India 2020 is booming.
Note: To get some more varieties and content to this question you can refer to – Future of Digital Marketing Quora and Future of Digital Marketing PPT available online……………
The Bottom Line
One can easily find Top Digital Marketing Trends online, but to implement it correctly, one will always require a Media Force or a Digital Marketing Agency.
Thus, to get this job done for you no-one is better than Candent SEO.
Here Read why!!
With the updated Marketing Skills, Candent SEO provides you the best digital marketing services to boost your online business.
We are focused on offering results-driven services for the customers that are devoted to building their brand advocacy & encounter the business goals within budget. Our only motive is to exceed the expectation of the client. This is because we see our success in your success.
So, if you are looking for the Best Digital Marketing Services in Patna, then feel free to contact us. This is because we have been constantly dedicated to helping businesses in building up a solid foothold on the online platform.
"Our main motive is to bridge the gap between you & your customers! Therefore, contact us to connect with your customers in an easy and user-friendly style."
Here we will put an end to this blog for – Is Digital Marketing the Future. We hope you enjoyed reading this blog and found this blog informative.
Till then, stay tuned…………………….
About Nishi Gupta
Nishi Gupta, Digital Marketing Consultant and veteran in online marketing offers experienced, professional Internet Marketing and Social Media solutions. She is also a professional blogger with passion to contribute in the growth-oriented organizations.