Benefits of Digital Marketing Strategies for Gyms & Fitness Clubs | Gym Marketing Plan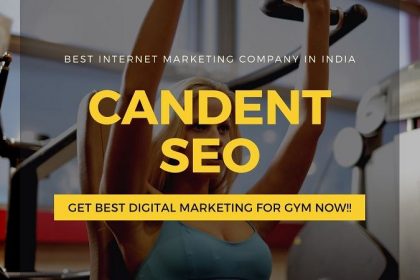 Read this blog to know why Digital Marketing for Gym is important, Benefits of Digital Marketing Strategies for Gyms & Fitness Clubs, and Digital Marketing Strategies for Gym…………
Health and fitness industry is extremely competitive. This, in turn, makes it even more challenging for companies to maintain customer loyalty in such a competitive environment. Getting new clients keeps the business alive. And only the companies implementing effective strategies can attract, gain, and retain client loyalty.
Why Digital Marketing for Gym is required?
In such a competitive environment, coupled with ever-evolving consumer preferences and trends, requires fitness companies to move out of their comfort zone and adopt high-impact marketing tactics to stay in business.
Therefore, in order to remain competitive and relevant in today's environment, one needs to embrace SEO and adopt Digital Marketing for Gym and strategies for the company. And to do this you can always hire an SEO Expert for Gym and Fitness Club, for which Candent SEO is the best option.
This is because we help you to initiate & form a base in the field of online marketing via designing & presenting your website. Our team at Candent SEO, Best Digital Marketing Agency in Patna, understands how overwhelming Digital Marketing for Gym can be. And that is why we're here to show you how easy and incredible the return on your investment will be.


Benefits of Digital Marketing Strategies for Gyms & Fitness Clubs
The following mentioned ways will help boost the website ranking and enhance the gym and fitness customers online.
The cost of internet marketing is minimal
Flexible and results-driven for gym and fitness clubs
Internet marketing increase client engagement
Easily measurable
Internet marketing is easier than you may realize
Best Digital Marketing Strategies for Gym
Running a Gym or Fitness Club means connecting new members for the gym which is not an easy task.
As a fitness club trainer, one has to understand the importance of ranking high on search engines, as offline marketing is no more supportive nowadays.
Therefore, to differentiate yourself from other gyms and Gym Competition Ideas, one needs an effective Digital Marketing Strategy for Gym. In addition to that, an efficient Digital Marketing Services for Gym is also necessary to serve the potential audience in a better way.
Invest in Good SEO
SEO is a powerful tool because of the sheer volume of people searching for gyms in google. There is a massive number of people using Google to find their required services. By having the gym's website with good ranking present in these searches, the customer will increase.
And to give this ranking in the google search a good SEO technique is required. The SEO tips for gyms and health clubs include:
Creating excellent, locally-focused content
Optimizing your Google listing
Optimizing your website
Building NAP (Name, Address & Phone Number) citations across the web and fixing incorrect citations
We understand that not everyone is an expert at SEO, therefore you can always hire an SEO Expert for Gym and Fitness Club. If you are looking for Best SEO Company in Patna, then feel free to contact Candent SEO.
Invest in Good Online Ads
Online advertisements don't always drive the most direct conversions, but they definitely do drive a ton of brand awareness. Furthermore, there is a number of places to buy advertisements online for Gym Advertising Campaigns. Some of them are:
Facebook ads
Google/ bling/ Yahoo search
Banner ads on these sites are extremely cheap and are best for Gym Marketing Campaigns that can leave a major impact on the top line. Fitness Studio Marketing using PPC advertising is one of the fastest and easiest ways to generate more leads and customers online.
Even if you have no experience with online marketing, you can always hire a PPC Company for Gym and Fitness Club like Candent SEO.
Promote Yourself on Social Media
Most of the people now spend more time on social media rather than spending on any other internet activity. This means that there's a huge group of engaged and active social media users that are potentially new members of your club.
Therefore, having a great strategy of Social Media Marketing for Fitness helps you to reach your potential customers.
How to Market a Gym on Social Media?
Here are the top three social media sites that can help you build a great Gym Strategy.
Facebook
Facebook is by far the most popular social media site. One can easily create a Facebook business page to establish its online presence. Once the setup is done, the gym has a marketing platform to foster dialogue with members. It can also provide useful tips and information and help create buzz around new promotions or events.
Twitter
Twitter is a microblog that is used to share messages. Usually, businesses use Twitter to direct people to other websites that contain more robust pieces of information. Twitter can be used for Digital Marketing for Gym as it gives a chance to show off some personality due to its informal and fast-paced nature. As Digital Marketing Plan for Gym it helps to share articles, photos, or even inspirational quotes for members.
Instagram
Instagram is primarily a mobile app used to share videos and photos. Since it is mostly a visual network, it gives Digital Marketing Ideas for Gym and a great chance to show off all of its beautiful amenities and features to the rest of the world. With Instagram, one can not only post photos of the inside of the club. But also things like club's employee culture, member transformations or workout videos.
Candent SEO team has delivered some great results in providing SMM to its customers and has helped them to increase their reach. Thus, if you are looking for a company for Facebook Marketing for Gym and Fitness Club, then feel free to contact us.
Promote Your Gym on YouTube
YouTube marketing helps Gym to provide the visual experience that photos and text updates won't give people. Videos give a better feel of Gym and allow prospective members the opportunity to visit the gym before actually setting foot inside the building.
How to Promote Gym and Fitness Club Online on YouTube?
Focus on quality content. If your video isn't worth viewing, people won't watch it or subscribe to your channel. It is also important to focus on the quality of content and make videos that engage the people and interest them.
Share Valuable Viral Content Online
Sharing valuable content online is one of the cheapest Fitness Marketing Strategies. And that's why most gym and fitness centers are leveraging "Content Marketing". This Gym Marketing Plan involves creating interesting and useful articles, guides, pages as well as user-generated content like photos.
The "content" designed have to be informative, fun, and also demonstrate the value of the company. Therefore, it's time for the fitness industry to get up to speed with Content Marketing if looking for cheapest Gym Promotion Ideas.
The Conclusion
One of the biggest challenges for Digital Marketing for Gym is to find the time to keep the business running. Social media isn't something you do in your free time. You have to constantly post new content or respond to followers.
Thus, Social Media can help you build these relationships with all of your prospective customers, but only with a solid strategy in place.
Our team at Candent SEO, Best Company for Digital Marketing in Patna recognizes your busy schedule and the need for your digital presence. That's why we offer you the Best Digital Marketing Services in Patna to give you an optimized website ranking.
Along with other services like Website Designing, Content Marketing, PPC ads, and SMM along with Digital Marketing Course to reach your prospective customers.
Therefore, if looking for a Digital Marketing Company in Patna, Bihar, feel free to contact Candent SEO for catapulting target audience. And also for supercharging your website, so that it becomes a legitimate sales for your business.
About PRAKASH CHANDRA
Prakash Chandra is the focused Professional Blogger and SEO Expert with zeal to make the significant contribution in growth-oriented organizations. He is a techno-geek straddling over digital marketing and web exposures, have carved a niche in the industry.